WELCOME
Heritage is woven into the fabric of our lives and is an integral part of our identity. Central Otago's rich heritage starts with our powerful landscape, sunny, dry and brown with weathered ancient mountains and fast-flowing rivers. From early Māori settlements, pioneering pastoral farmers, the rush for gold, to fruit and wine – all bringing a mix of cultures, customs, traditions and architecture.
Heritage Central Otago represents the collective membership and interested parties that make up the Central Otago heritage community. Established in 2008, Trustees are elected by Central Otago's major heritage organisations to represent their collective interests for the protection, preservation and celebration of Central Otago's heritage.
WHAT IS HERITAGE?
Heritage is that which is inherited from past and current generations, cared for in the present and handed on for the benefit of future generations, and includes: 
Built heritage – the legacy of man-made buildings, structures, and objects and associated intangible attributes;
Natural heritage – the legacy of natural places, objects and intangible attributes encompassing the rural and natural environment, including flora and fauna;
Cultural heritage – comprises two components comprising: the tangible – artefacts, ecofacts, buildings, gardens, landscapes, historic places, relics of the past, material remains big and small; and the intangible – folklore, language, music, dance, manners, memories, customs, traditions, histories and notions of identity.
Archaeology– a place or item associated with pre-1900 human activity, where there may be evidence relating to the history of New Zealand. Archaeology includes both in-ground and above ground remnants and can include any of the heritage resources mentioned under Built Heritage and Cultural Heritage above.
Make a difference to Central Otago through supporting the special heritage you love for future generations by becoming a member of Heritage Central Otago or donating or volunteering your time to a heritage organisation in Central Otago.
OUR LOGO
The Heritage Central Otago logo is available for use by all who desire to protect, promote and celebrate heritage in Central Otago.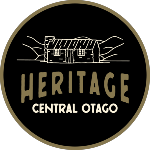 Feel free to download our logo to use on your website or other heritage related communications.
OUR SUPPORTERS
Heritage Central Otago acknowledges the generous support from the following organisations.
Sign up for our e-newsletter and stay up to date with what's happening in the Central Otago heritage sector